Castle Resort
Competition for young architects
︎


With
Camille C.

Year
2017


By looking at the topography and the shape of the hill, we perceived the silhouette of a four-sided roof or pyramid. This observation made us to draw some consequences referring to one of the most significant shapes: a square. Inspired by origami rules of folding paper, the new structure has the ability to perfectly fit to the site.


A new interpretation of a medieval castle's typical components led us to use them as highlights for visitors. The fortress transforms itself into its own real scale model, following a precise geometrical mark, based on existing elements.
Film Institute
Competition for graduates
︎


Type
Master thesis

Year
2015




The primary reference for this work was a theoretical study on urban changes visible in feature films shot in one city. After establishing some major locations, the first part was an imagined city-tour based on important scenes within these locations, as well as a designed element that would be reproduced and adjusted accordingly. The second part was a detailed urban analysis of the selected portion of construction, and a new Masterplan. The third part of the project relates to the building itself.

Choosing this kind of edifice came after noticing that the film archives were not centralized, which was considered as a problem in the coordination and supervision of the cultural heritage: the city seems to have an urgent need in terms of space. Thus, this Film Institute offers an exchange and cooperation between national and international partners, directly or indirectly involved in film projects - cinemas, schools, festival organisations, museums. The program provides three kinds of use divided in private, semi-private and public areas. The space is imagined for professionals, students, searchers, and spectators.

The general concept was to mix architecture and films in a common shape. A functional interpretation of cinemas led to a practical trapezoidal form. With a rotation symbolizing the moving of images, the resulting body gives three connected parts, each having a different orientation and view. A compact dark common ground gathers them, allowing a free and generous circulation in the hall, where a natural light follows the geometry of the trapezoids. The roof of this black box becomes a public and open area, where people can meet.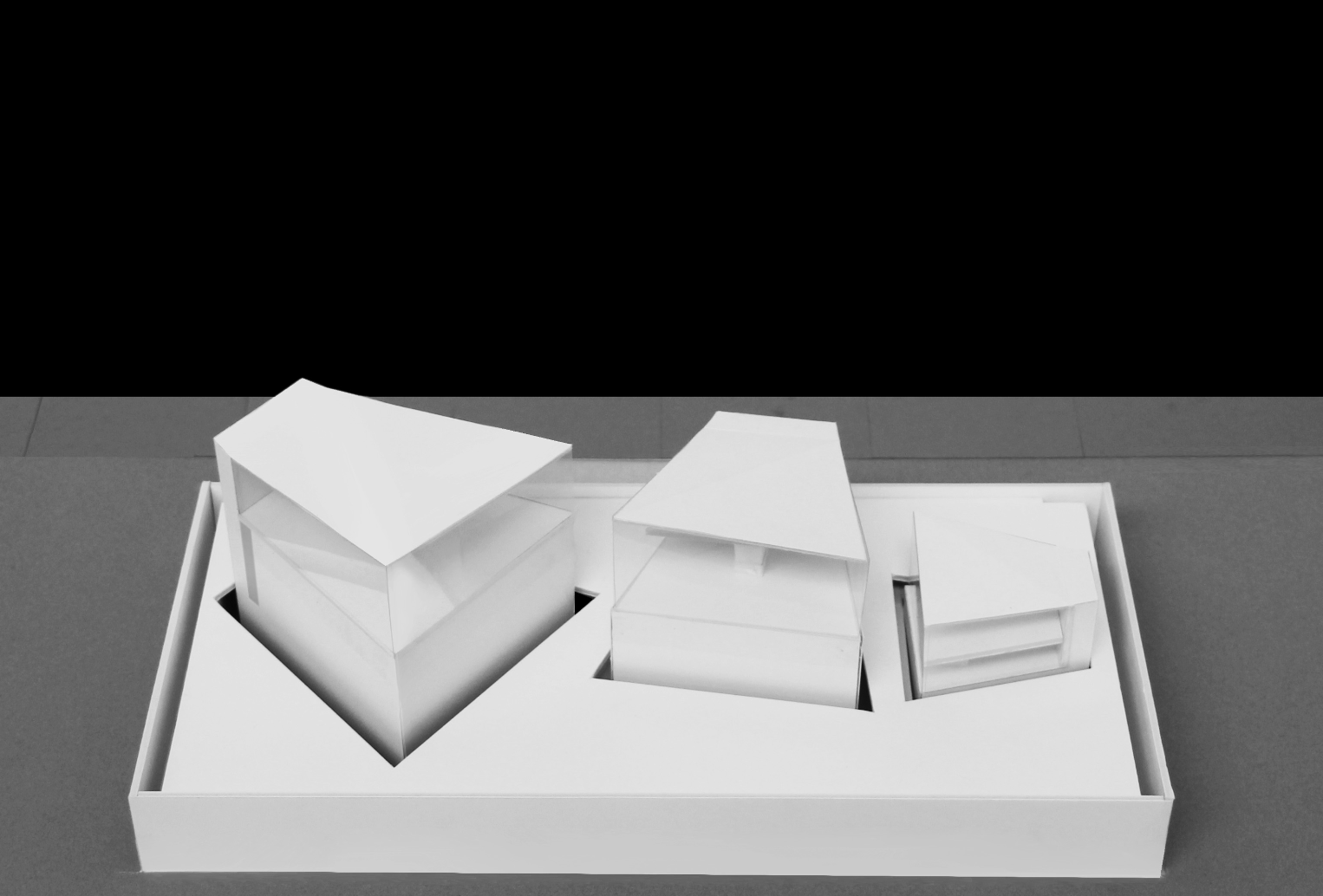 Mirror Box
Competition for light design
︎


Type
Experimental space

Year
2014




This project was born from the idea of uniting some mechanisms, playing with natural light as part of our daily lives. Almost like a labyrinth, it is surrounded by a garden and closed by four high walls to ensure meditative focus, as a spiritual journey that allows the visitors to see and feel. Facing their own thoughts, fears, hopes and moods, they explore different environments. With a modular system of squares, endless paths are possible to combine.


Considering that you can light up a room in three different ways (from bottom, side, and top), one can explore these resources by playing with the reflections (mirror), colors (materials and nuances), and architecture (structure).

The Mirror Box symbolizes the moment when visitors find each others for a break, after the first half of their journey. This is the place where they share their impressions. Natural light is filtered by transparent walls, floors and ramps which are reflected in mirrors and the pool on the bottom. The aim is to question the optical illusion of total visibility: even if you can see everything, you can still be lost.